Build your dream home in Long Grove
When you think about building a home there are plenty of issues to consider:
Do you have a reputable builder whose estimate won't double as the "unexpected" costs start rolling in?
Will you have a place to stay during construction?
How do you find the community that is right for you?
Do you want a vacant lot in an existing neighborhood or do you want to find undeveloped land?
Let's start with the first issue--finding the builder, contractor, architect. This is a daunting process if you go at it alone. Fortunately, we've worked with many builders and architects who know the local building requirements and can build you whatever you are looking for within your budget. We can hook you up.
If you need to sell your current home in order to have the equity to begin construction, you'll need to find a temporary place to stay. Short term rentals are few and far between (or they are pretty gross or really expensive!) but there other options. We work with a company that places families into vacant homes on the market. The families then act as "home managers" to care for the home. This may be a temporary solution for you.
Finding the right community usually starts just like any other home search--how are the schools, amenities, location to work, etc. Only you know what works for you.
And, whether to build on a ready-made lot in a neighborhood or to tackle undeveloped land comes with pros and cons. In a neighborhood you'll have to conform to neighborhood standards; but, you also will have easier access to utilities and paved roads.
The good news for you:
If you want to build your dream home in a higher end neighborhood, in one of the best school districts in the country, with easy access to shops and amenities--I have the perfect vacant lot for you. And it is LESS THAN HALF the price it originally sold for!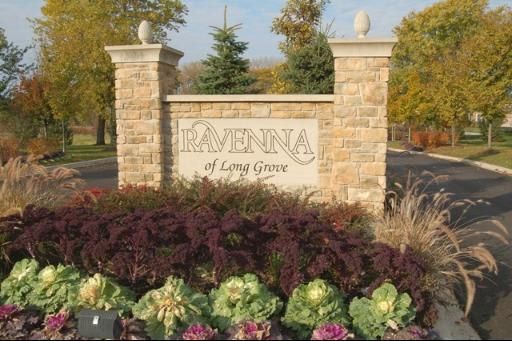 Ravenna is a beautiful high end neighborhood in Long Grove, Illinois. Here are some of the homes I have listed or sold in this neighborhood from $600,000 to nearly $1,00,000.
When Ravenna was developed in the mid-2000s land costs were at an all-time high. Individuals paid $200,00 and up for the lots. Market conditions have shifted and this lot is now available for $79,500.
Welcome to Long Grove, Illinois!
Yesterday's Charm, Today's Lifestyles
Just northwest of Chicago, this special little village retains all the character of its original farming community roots, with historic buildings, cobblestone walks and flowering gardens, set in a secluded rural atmosphere. And now, added to all the traditional favorites, Long Grove has an exciting new mix of attractions, offering contemporary goods and style, cool arts and entertainment, and festive spaces to fulfill the wishes of a whole new generation.
Nestled in historic homes and buildings that date back to the community's roots in the 1800's, Long Grove's many shops specialize in unique gifts, boutiques, exceptional art and home decor, and distinctive menus.
Long Grove is also known for its fun. Their full schedule of festivals and concerts are among Chicagoland's premier outdoor events. Chocolate Fest in May, Strawberry Festival in June and Apple Fest in September draw appreciative crowds, as do many other outdoor music and celebrations throughout the year.
The charming shops, historic character, genuine friendliness of the merchants, as well as the unique gifts, jewelry, exceptional home decor and distinctive foods and wines are sure to catch your fancy.
---
In addition to the restaurants and shops, Long Grove students attend one of the best high schools in the country with Adlai E. Stevenson High School.
If you build your home in Ravenna in Long Grove, your high school students can take advantage of more than 200 courses. Stevenson's Advanced Placement program is among the nation's best. Nearly 30 AP classes are available and Stevenson regularly leads the Midwest region in AP participation and has ranked in the top five worldwide.
---
Give me a call to discuss building your dream home in Long Grove, Illinois.