Live on Bangs Lake Waterfront
I like my house. I love my neighborhood. More specifically, I love what my neighborhood represents.
We live in Wauconda, , north of Chicago in Lake County. The center of our town is the crown jewel, Bangs Lake. Bangs Lake is just big enough to be fun but not too big to get lost. It's perfect for a day of swimming, kayaking, going on the waverunner, etc.
We bought our house in 2003 in a great neighborhood of homes and cottages that are old and new, big and little, nice and, ahem, well-lived in. Our house was somewhere in the middle. The house was built sometime in the 1950s, and expanded somewhere along the way. Like many cottages it has some peculiarities to deal with. But, its location across the street from the beach with a great lake view sold us on it.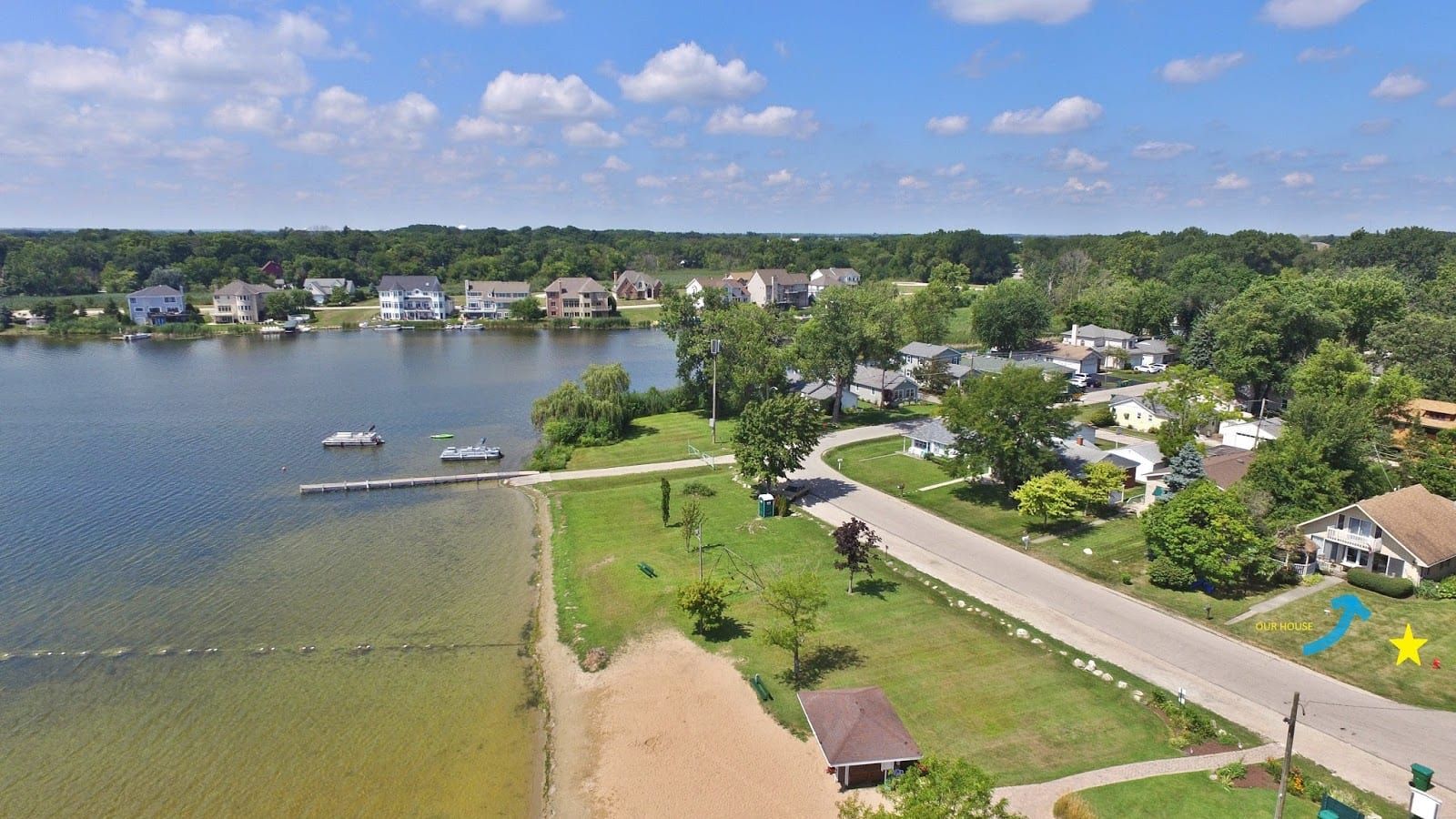 Our house with the blue arrow and star.
To hear why one of my sellers moved to Lake View Villa, meet Marin and Sarah:
Like Sarah and Marcin, I love the lake life--the community of neighbors who spend their free time outside, coming in from a day on the lake a little sunburnt and thinking about what to make for dinner.
I love that children just make up games to play and it is not unusual to see some version of tag with a dozen kids from 4-16 years old. I love that in the winter, some neighbor is always willing to plow a section of the lake to make an ice skating rink. In the summer there always seems to be room on someone's boat for one more. I love that when one of our own faces difficulties, the neighbors rally together.
For Jeff and me, living near a lake was our dream.
If that is your dream. You are in luck--almost. I just listed a home that is not quite on the lake but is on the channel just 4 houses away from the opening of the lake. From this home you have beautiful natural views of the channel and can keep your boat or water toys right behind your house on your own pier. Because you are so close to the opening of the lake, it makes it very easy to enjoy it all.
Here are a few details about the house:
Price: $295,000
Beds: 3
Baths: 2 full
Style: Brick ranch home, no basement
Water Frontage: 111 feet
Address: 918 Jackson, Wauconda, Illinois
This brick ranch homes sits of 111 ft. of wide channel frontage just four houses from the opening to Bangs Lake. Includes an 80ft. pier and is deep and wide enough for a boat. Nearly 1500 square feet with 3 bedrooms and 2 bathrooms. Great family room with fireplace to enjoy peaceful views. Newer kitchen with granite counter tops and stainless steel appliances. Huge master bathroom. Attached 2-car garage. Just down the street is Lake View Villa private beach for swimming or to launch your boat. You can't get this close to the lake for this price.
Waterfront home to Bangs Lake. This brick ranch homes sits of 111 ft. of wide channel fron...
---
To set up an appointment, call me at 224-730-9661 or click the link.