We love where we live. You can, too.
I like my house. I love my neighborhood. More specifically, I love what my neighborhood represents.
We live in Wauconda, Illinois, north of Chicago in Lake County. The center of our town is the crown jewel, Bangs Lake. Bangs Lake is just big enough to be fun but not too big to get lost. It's perfect for a day of swimming, kayaking, going on the waverunner, etc.
We bought our house in 2003 in a great neighborhood of homes and cottages that are old and new, big and little, nice and, ahem, well-lived in. Our house was somewhere in the middle. The house was built sometime in the 1950s, and expanded somewhere along the way. Like many cottages it has some peculiarities to deal with. But, its location across the street from the beach with a great lake view sold us on it.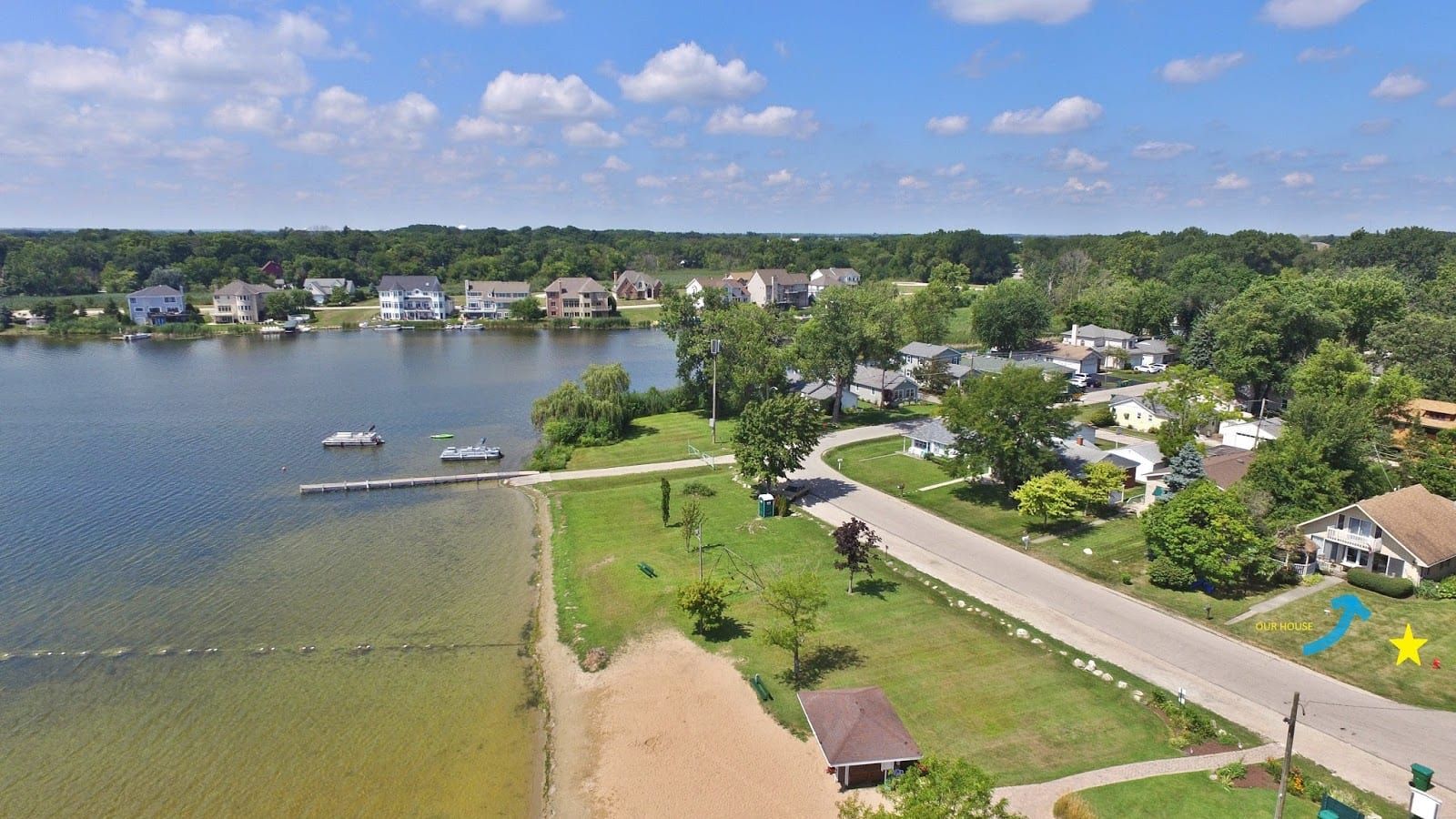 Our house with the blue arrow and star.
I love the lake life--the community of neighbors who spend their free time outside, coming in from a day on the lake a little sunburnt and thinking about what to make for dinner.
I love that children just make up games to play and it is not unusual to see some version of tag with a dozen kids from 4-16 years old.
I love that in the winter, some neighbor is always willing to plow a section of the lake to make an ice skating rink.
I love that when one of our own faces some difficulties, the neighbors rally together.
In addition to smiling faces, the lake is beautiful in every season.
But even more beautiful than the views are the lives that are lived in a neighborhood like this. At the end of January, for the past few years, our neighborhood has hosted a fishing derby to benefit a local veterans organization, Veterans R&R. In 2018, more than 500 participants fished while there were over 100 volunteers. Check out the action:
---
For Jeff and me, living near a lake was our dream.
If that is your dream. You are in luck!
This week I am going to list a home for sale in my Bangs Lake neighborhood just about 5 houses away from the beach, park, and boat launch. The sellers are just finishing a brand new luxury master bath and as soon as it is finished, we'll be ready for pictures.
Here are a few details about the house:
Price: $309,900
Beds: 3
Baths: 2 full/2 half
Year built: 2001
Finished square footage: 2918 including the English basement
The owners have made some really great choices in the home. Check out all the beachy details here:
Summer is coming and you'll want to be in this home when warm weather arrives! Live ha...
---